BIC LAUNCHES SPECIAL EDITION 4-COLOR PEN COLLECTION WITH ARTIST RICHARD ORLINSKI & FAMED TOURNAIRE JEWELRY HOUSE
October 12, 2021 – BIC has joined forces with French contemporary artist, Richard Orlinski, and luxury French jewelry house, Tournaire, to create a special edition collection of BIC® 4-Color pens. The 4-Color pen has been an iconic writing instrument since its creation in 1970 and is a symbol of how BIC products delight and simplify consumers' daily lives. This collaboration perfectly blends the beloved design of the classic pen with the artistic know-how of Richard Orlinski and luxury craftsmanship of the prestigious Tournaire jewelry house.
The special edition pens offer an elevated writing experience thanks to jewelry-inspired facets created using precious metals and stones. This unexpected partnership combines three worlds, the popular, the artistic and the exceptional, with one common goal of bringing art into our daily lives through writing.
The BIC x Orlinski x Tournaire "bronze" collection includes three unique versions of the 4-Color pen: yellow gold-plated bronze, white palladium-plated bronze and rose gold-plated bronze, each numbered to 999 pieces and priced at 390€. The "bronze" collection will be available from October 13th on www.bic.com, www.orlinskishop.com and www.philippetournaire.com.
An ultra-limited edition collection will also be sold exclusively in Tournaire boutiques and on the www.philippetournaire.com website. It includes a gold version and a gold and diamond version, each available in yellow, white and pink, numbered to eight pieces.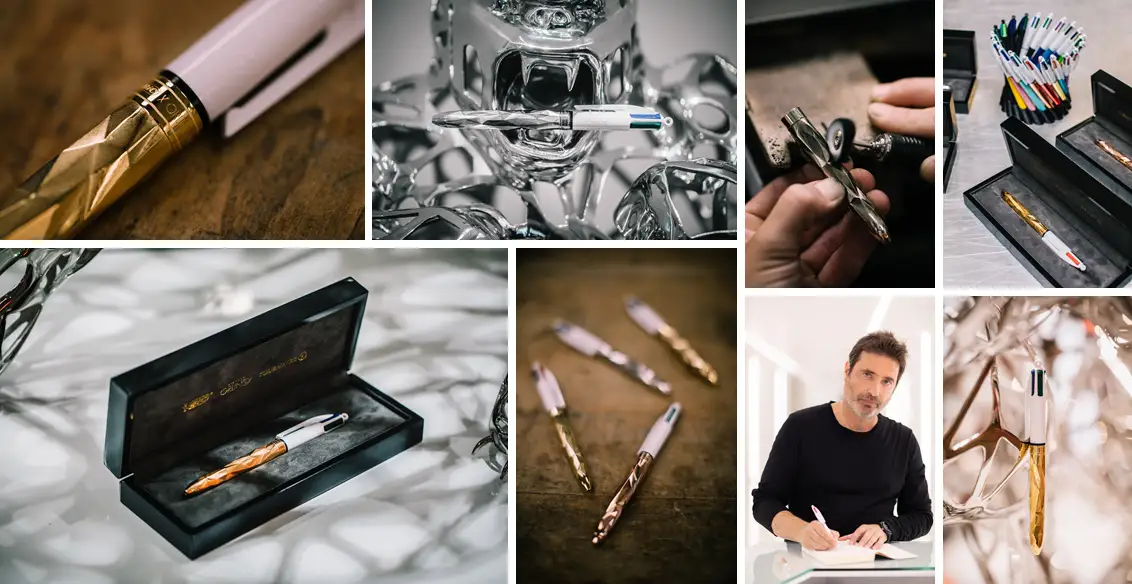 RICHARD ORLINSKI
Richard Orlinski has been the best-selling French contemporary artist in the world since 2015. Driven by the desire to democratize art and make it accessible to as many people as possible, he draws his inspiration from pop-culture and everyday objects.
TOURNAIRE
The Tournaire Jewelry House was founded nearly 50 years ago by self-taught jeweler, Philippe Tournaire, in the Loire. Over the years, the house's unique history and pieces which combine jewelry with architecture have brought it to international fame.