BIC WELCOMES WILLIE NELSON TO "MOST BORROWED LIGHTER" EZ REACH® AD CAMPAIGN WITH MARTHA STEWART AND SNOOP DOGG - AND IT'S LIT
Willie borrows Snoop and Martha's EZ Reach lighter to light up his "favorite herb…scent"
BIC, a world leader in stationery, lighters, and shavers, welcomes music icon Willie Nelson to its legendary and viral BIC®EZ Reach® advertising campaign featuring entertainment superstar Snoop Dogg and lifestyle innovator Martha Stewart with Marquee Brands. Now in its third year, the campaign's latest iteration, "Most Borrowed Lighter," reinforces the pocket-sized lighter's 1.45-inch extended wand that helps light hard-to-reach places and is inspired by a powerful consumer insight: EZ Reach lighters are so useful that friends and family tend to "borrow" them for their own lighting needs.
"Consumers love this cheeky campaign and how BIC EZ Reach lights candles and "more" while helping to keep fingers away from flames," said Katty Pien, Vice President of Marketing for BIC North America. "Adding Willie into this playful dynamic with Snoop and Martha will expand the campaign's appeal by welcoming Willie's fans to join in the fun."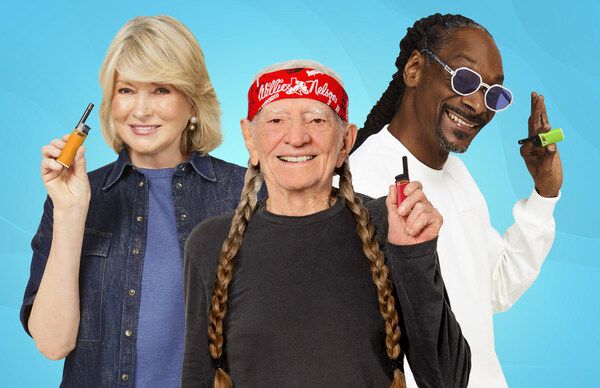 In "Most Borrowed Lighter," Willie Nelson uses a BIC EZ Reach to light up a fat…candle just as he gets a surprise video call from Snoop who has misplaced his beloved EZ Reach lighter. Martha then joins the call to report that her scented candle is missing. While Willie denies seeing their items, it becomes clear that he "borrowed" them from Snoop and Martha. Willie is seen chuckling mischievously as he lights up a candle with his "favorite herb scent" (-ed candle). The ad is available on YouTube, Facebook, Instagram, TikTok and Pinterest and will be shared on Willie, Snoop and Martha's social channels. The spot is just the beginning of the BIC EZ Reach partnership with Willie, Snoop and Martha, which will continue throughout 2023. Learn more and watch the ad here.
Please see previous campaign below for reference:
BIC Partners With Ultimate Duo Snoop Dogg And Martha Stewart For EZ Reach® Lighter Ad Campaign
Three's Company: Martha Stewart, Snoop Dog and Willie Nelson
"The BIC EZ Reach lighter's unique design helps to light those hard-to-reach places, whether you are lighting a candle or something else," said Willie Nelson. "I'm thrilled to partner with BIC and my friends Martha and Snoop to show off the many ways the BIC EZ Reach lighter is ideal for all lighting occasions."
"Snoop and I have had so much fun demonstrating the versatility of the EZ Reach lighter," said Martha Stewart. "And we are thrilled to welcome Willie into the fun."
"As someone who uses a lighter almost every day, I find the BIC EZ Reach to be safe and reliable, fo shizzle my nizzle," said Snoop Dogg. "Our love for this frequently borrowed household staple is one of the many things that my best friend Martha, Willie and I have in common."